V11 Radio Remote (One Shot/Flexiflo/Wash & Rinse)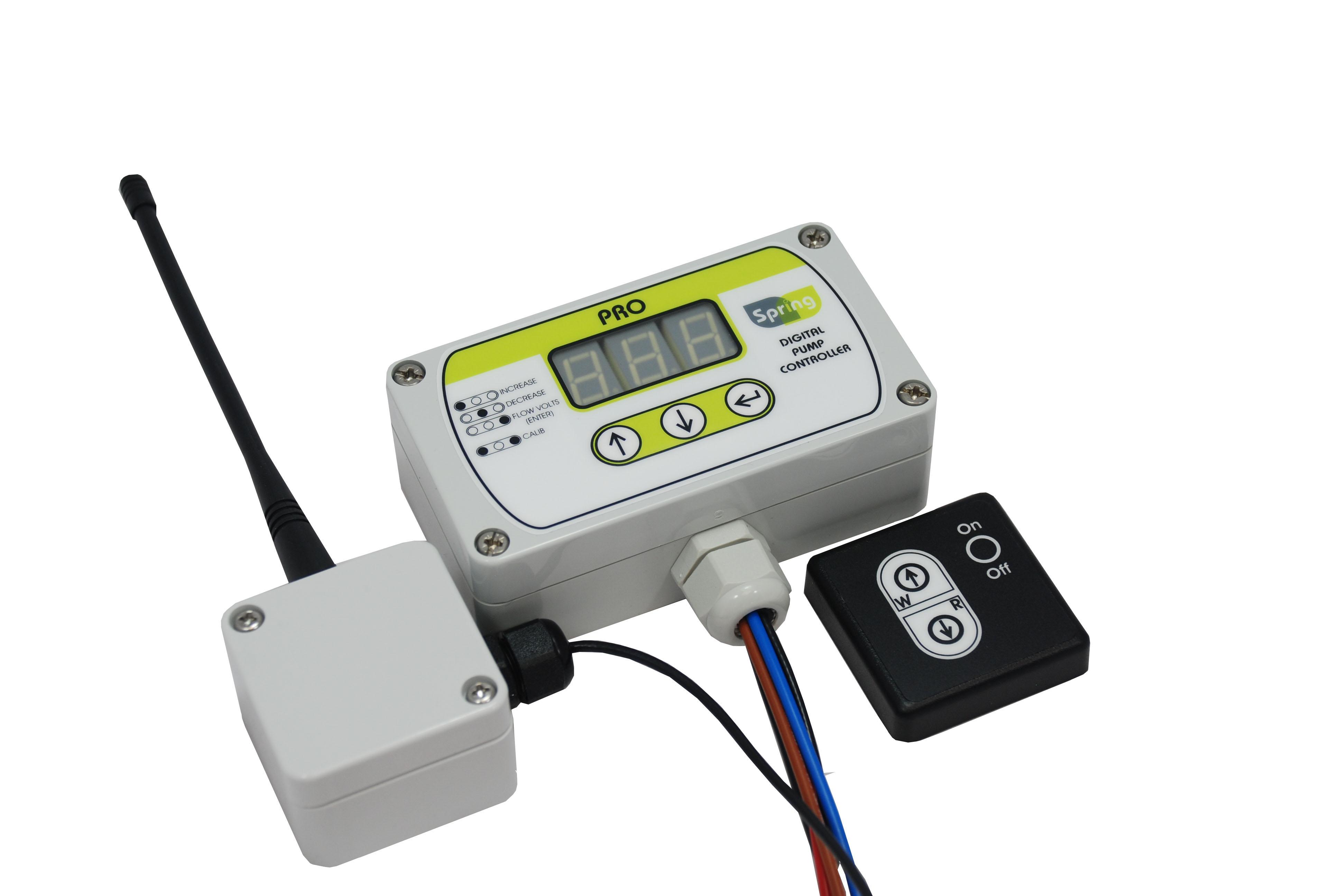 We offer a range of radio remotes with single button or three button options. All come with a V11 Basic controller as standard. (Other controllers are available at an additional cost.)
One Shot: a singlebutton fob to switch the pump on and off. The benefit here is that as you move between windows on a property you are no longer wasting water. As you finish one window turn off the One Shot, move to the next window, then turn the One Shot back on. The radio receiver has a range between 60 and 120 meters (line of sight). This is an ideal product for mounting on a trolley, trailer or van system. Saving water allows a greater number of jobs per tank and more completed work in a day, enhancing your earning potential.
Flexiflo: a three button fob that not only allows the user to turn the pump on and off but also to adjust the flow rate up and down (0-99). It gives the user complete control of their pump without having to walk back to the vehicle/controller.
Wash & Rinse: a three button fob that not only allows the user to turn the pump on and off but also allows the choice of two different flow settings: Wash for a normal flow or Rinse for a boosted flow (this rate can be preset).
Antenna Options
ADVANCE. Supplied with an aerial mounted on to the controller casing, giving a range of over 60 meters (line of sight). The ideal for both open trailer systems and trolleys. While the remote can be fitted to a van mount you may be required to leave the vehicle doors open to allow the signal to be received. The ability to stop and start the pump means saving water allowing more work per tank.
ULTIMATE. As the ONE SHOT but with an externally mounted roof aerial to give a range of up to 120 meters, allowing you to work with complete freedom. This unit is ideal for working on a larger property or where you have a number of properties close together. The One shot ultimate gives you a versatile and market-leading control system and in these times of water shortages, you can reassure your customers that you are using the minimum amount of water required. In some cases you can use less water with WFP over traditional methods as water waste is reduced to an absolute minimum. The Radio remote range are all supplied with a V11 Basic pump controller wiring and fuse kit and Key Fob. Radio remotes are available with Charging, TDS, Auto fill and analog options. Please contact your stockist for purchase.
Note: Existing V11 One Shot controllers can be upgraded to the 3 button version. Controls will need to be returned to Spring for software and hardware upgrade (charge applicable). This can be done direct or via your stockist. NOTE: Please specify at time of order from your stockist if One Shot or Three button option required One button fob V11 One Shot Advance - V11 OS A - Controller plus one button fob V11 One shot Ultimate - V11 OS U - Controller plus one button fob New 3 button fob V11 One Shot Advance 3B - V11 FF A - Controller plus three button fob V11 One Shot Ultimate 3B -V11 FF U - Controller plus three button fob
Note The water flow may take a few seconds to stop/alter the pump once you have pressed either the stop or up/down buttons. This is due to pressure in the hose and the DE calibration setting. Be aware the higher the Calibration and Flow setting the higher the pressure created by the pump. This will effect how long it takes for the water flow to stop. Push the remote fob buttons once after a few seconds the flow will stop/alter. Avoid quick multiple presses as this will simply switch the pump rapidly maintaining flow and pressure.
Full 12-month warranty

Fitting instructions

Operating instructions

All necessary cables

Pro digital pump controller
Where to buy - Gardiners, Pure Freedom, Cleaning Spot, The Cleaning Warehouse, Sureclean Systems, Window Cleaning Warehouse, X-Line systems or Please see our distributors page
NOTE: Image shown is the V11 Ultimate three button Controller